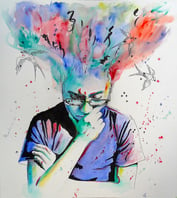 If you are like many of our clients, you just finished renewing your benefits package. Open enrollment can be a hectic time when you make multiple decisions and compel your entire population to take action in a limited time frame. So you might be tempted to sigh with relief and table the topic until next year but don't do that yet!
What if I told you that the key to better benefits doesn't happen during your enrollment cycle?
We work at a frenetic pace in the three months before the New Year because many of our clients, for one reason or another, renew their benefits packages on January 1st. Despite the hustle, we actually enjoy the fourth quarter, with its opportunity to meet with many of our clients and have a positive impact on a lot of people's lives. What we don't love is that the hectic pace of the renewal process does not allow for deep thinking about the benefits suite.


No matter when you renew, there are likely myriad things to consider around your benefits package and you will only have a couple of months to make and implement those decisions. Plus, if your renewal period coincides with your busy time of year, it is likely that you will simply have too much going on to properly evaluate programs and explore new options. We see this dilemma all the time.


That's why we ask our clients to meet with us mid cycle to consider changes and evaluate choices. We think off cycle is the best time for evaluating your benefits, diving into the claims data and really looking at how the products are performing for your population. By doing deep work off cycle our clients are able to enter their renewal already equipped with the information necessary to make decisions and are better positioned for smooth implementation.


There is so much to consider as we strategize for your next cycle: What's working? What other options are available? What fiscal impact would a small change make? How well are you using new technology?How can we increase engagement in the wellness programs? What are you doing about onboarding new employees and introducing them to your culture? How are you training them for success? Does your employee handbook need an update? Are you leaving yourself vulnerable to loss or lawsuit? And these are only a few of the things to consider.


As you start to look at these issues many of the solutions, particularly around hiring and training, can be implemented at any time of year.


If you are waiting until the last minute to make choices for your next renewal you are not going to have time to explore your options and weigh the pros and cons. Open dialogue takes more than thirty minutes or an hour. By meeting with us when you (and we) have more time we will have an opportunity to do some due diligence and come back to you with options and possible solutions. Now you have the time to think it over, maybe even discuss it with the leadership team. You cannot do that when everything is a rush, and unfortunately all too often you are not focused on these things until it is a rush. Under those circumstances you might make moderate changes at best.


The benefits package is a hefty portion of your employee related expenses. It is also a key factor in your ability to attract and retain talented people. With careful planning, we can be strategic about how you leverage that resource for best results. But we can't effectively have that conversation in the frenzy of the renewal process when there is so much to do and so much pressure.
Let's schedule a time to talk strategy and plot solutions for your business well in advance of your next renewal. You'll be well on your way to becoming an Employer of Choice!