Take care when terminating an employee for excessive absence. You must first determine if the reason for the absence makes the employee eligible for Family and Medical Leave Act (FMLA) job protected unpaid time off.
Failure to take proper steps could put your company at risk for noncompliance penalties and costly legal action. Awards to employees, particularly in retaliation cases, can be multiple years of back pay, possibly doubled by liquidated damages, with legal fees and other costs.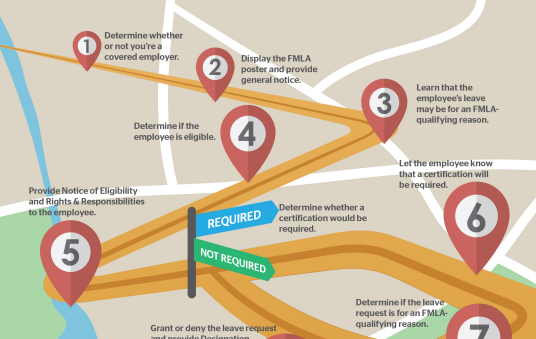 Provide Proper Notices
The employee doesn't have to specifically mention "FMLA" when they request the time off but if they give you information that indicates that the leave may be FMLA protected it is up to you to provide them with the proper notices.
The first notice that must be provided is the "Notice of Eligibility" that lets the employee know whether or not they meet the eligibility requirements for FMLA leave. That notice must be provided within 5 days of the start of the leave. If you determine that the employee is eligible for FMLA leave you must provide a "Rights and Responsibilities Notice".
Often these two notices are provided at the same time and in the same document. These notices should be attached to a proper certification form requesting that the employee provide evidence that the leave itself qualifies for FMLA protection.
The Three Day Rule – Are We Protected If We Follow It?
Although the Federal FMLA stipulation is that the employee require at least a three day absence in order to qualify, employers shouldn't rely solely on that rule in determining eligibility.
Many States have their own rules and some don't require any particular amount of time off for eligibility. Further, even the Federal statute is complicated and allows for things like intermittent leave which may make the three days difficult to calculate.
In order to be safe it may be a good practice to send FMLA notices to every employee whose leave you suspect may be due to a qualifying situation.
In general, qualifying situations are as follows:
The birth of a son or daughter and to care for the newborn child.
The placement of a son or daughter

with the employee

through adoption or foster care.
To help care for the employee's spouse, child or parent with a serious health condition (some States include in-laws and/or grandparents)
For the serious health condition of the employee that makes the employee unable to perform the functions of his/her job.
A covered family member's active duty or call to active duty in the National Guard or Reserves in support of a contingency operation.
To care for an injured or ill covered service member.
If you suspect that an employee is requesting time off due to one of the above situations you should determine whether that employee is eligible for protected leave (i.e. have they been employed long enough and/or worked enough hours) and then provide the proper notices.
Establishing a routine checklist for employee leave will ensure that you are always in compliance.
The Number Matters – Geography Does Not Guarantee Exemption
Every employer with 50 or more employees is legally obligated to follow FMLA guidelines, providing 12 weeks of unpaid job protected leave for employees with an eligible life event. Employees are eligible if they worked 1250 hours for the employer the previous year.
It is the 50th employee that triggers FMLA so when you acquire that 50th person it is a good idea to act in accordance with the guidelines.
I hear your next question: I have multiple site locations none of which has 50 employees, isn't there a proximity exclusion? In theory yes based on how the law is written but the government has found loop holes around this so again, it is best to err on the side of caution and consider all employees at all locations as one population.
Did you know employees can take FMLA
time in 15 minute increments?
How to Stay In Compliance
You should have an established written FMLA policy in your employee handbook and it is not a brief few sentences. In order to have the compliant language it will be a 7-11 page long section. This language is fairly standardized. Do you have it in your handbook?
Of course we are talking in broad strokes here about a nuanced topic. The law is complex and tracking absences, particularly if it is taken incrementally, can be cumbersome. You must be in compliance with both State and Federal laws which are not always identical.
It is all too easy to accidentally find yourself out of compliance.
Consider whether outsourcing FMLA administration might be a good option. We can help you explore your options and get you compliant with FMLA requirements.