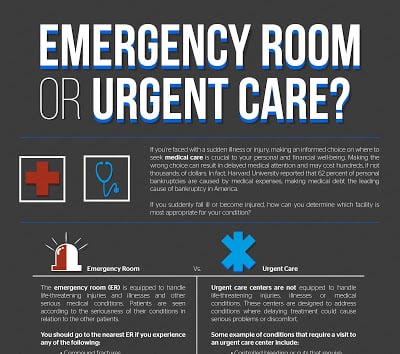 If you're faced with a sudden illness or injury, knowing where to get care is important. An unnecessary Emergency Room (ER) visit can be an expensive and time consuming endeavor. Knowing the different capabilities of each facility is an important first step in choosing the best place to seek care.

Many top reasons people visit the hospital are actually misplaced convenience care services or potentially preventable visits that could be better served in other facilities.




Grab your copy of our free printable infographic outlining how to best choose care in case of sudden illness or injury. This is great piece to share with your employees, possibly via email or posted in a break room.
Controlling heath care costs begins with educating the health care consumer. An informed choice between ER and UC can ensure prompt access to medical attention, potentially at a lower cost.